I have really enjoyed playing with a new product Stampin' Up! are offering, Brusho are fabulous colour crystals that react with water, the results are stunning and every time you use it you get a different effect.
I'm sharing a simple way of using these colours with you, but there are so many other ways of using it.
To begin I took a piece of watercolour paper, spritzed it with some water then sprinkled over three different colours of Brusho and watched how the colours reacted with the water, and each other.
Once dry, I used my Versamark ink to stamp a flower onto my watercolour paper then poured over Silver embossing powder and set with my heat tool.  I then hand cut my flower ready to attach to my card.  The background behind my flowers was created with a brush using diluted Brusho Crystals and literally painting directly onto a layer of watercolour paper.  My leaves were created by embossing the leaf image with Silver Embossing Powder then painting with diluted Brusho in a paint pallet and hand cutting it out.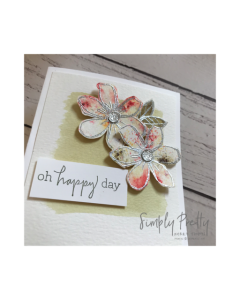 I loved how creative I felt using the new Brusho's, it is just so addictive and each time you sprinkle the powders you get a different effect.Stampin' Up! have five colours available right now and we also have Watercolour Paper and Aqua Painters that will compliment your new creative technique.
I recently ran a couple of classes with the Brusho and everyone fell in love with it, so I plan to repeat the class again soon so watch this space!