Well, I had the most amazing time at On Stage in Telford at the weekend, I am bursting with excitement over the new catalogue and some changes that are going to happen!
Here's a photo of the girls in my team who attended the event, look at our happy little faces lol!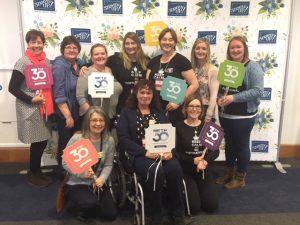 The retired lists are now LIVE, and you will notice lots of inks retiring alongside the usual In Colours.  The reason for this is that Stampin' Up! are having a Colour Re-vamp!
Now you may want to stock up on ink refills and cardstock for the retiring colours, but don't delay for too long as sometimes they sell out really fast!
You can see the list of RETIRING PRODUCTS HERE from the Spring/ Summer Catalogue
You can see the list of RETIRING PRODUCTS HERE from the Annual Catalogue
Visit my online store HERE to get the whole picture
If you place an order via my Online Store and use my current Hostess Code J9N6U2DP I will send you a hand stamped card and gift in the post to say thank you for shopping with me.
Stampin' Up! makes a point to keep an eye on colour trends across different markets and industries. When we see changes happening, we review our colour spectrum to ensure that we remain consistently on top of the trends. This brings us to the 2018 Colour Revamp!
In order to keep bringing you the most current and on trend colours, we decided it was time to give our colour collections a makeover.
Firstly we still have the In Colour Programme that changes every two years
Here's this years new In Colours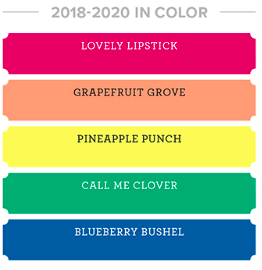 Now the other changes are as follows….
On 31 May 2018, thirteen colours are retiring
There will be 10 new colours joining the collections

and 6 returning colours

which brings us to the new Colour Collections
We will also see a new style stamp pad case with a new and improved ink!
So lots of new things to take onboard, and you haven't even seen the AMAZING new 2018/19 Catalogue yet!
I will be placing an order in the next couple of days, if you are local and would like to add some retired products to my order just get in touch at stampinkerry@aol.com or text me on 07717 068909, of course the best way is to SHOP ONLINE with me to ensure you get the products you want before they sell out
SaveSave