It's quite usual for me to be awake early, and often on a Sunday I have to force myself to lay in bed awake, resisting the urge to get up and get my day started! This morning however, I woke at the usual 6am and just couldn't rest, so up I got! I headed down and did my usual wander around the garden with Alfie with my torch in hand then came in, popped on the kettle and sat to the desk, and so my day begins……..
I often bring work over to the house from my Studio, and currently the desk is crammed with Painted Poppies projects ready for my Class next Saturday, so I pushed inks and stamps to one side to create enough room to pull my Mac in front of me!
On Friday I held a class where we used the NEW Thoughtful Blooms stamps and co-ordinating punch. Now these are both SAB items, FREE when you place a qualifying order, so if your wishlist is growing then maybe you could choose these as your gift? Now, onto my projects…..
I'm a huge fan of Instagram, you'll rarely find me scrolling on FB, but IG, that's another story, I'm blown away by the inspiration!
I came across a card and fell in love with the colours and had to design my own version, I loved the use of our Pillow Boxes (the spotty kraft and white strip) although I found it hard to cut into that gorgeous little box but great to see another use for it! The designer is from the SU Artisan Team, Nina Waldschmidt.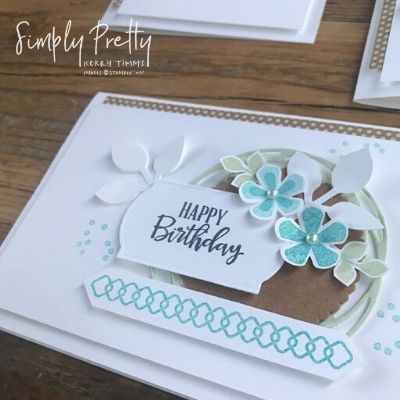 I've used Bermuda Bay and Soft Seafoam inks, stamping off to get a second generation colour for one of the flowers and that lovely little spotty background stamp. Momento Black in was used for my greeting which is from the NEW "Peaceful Moments" stamps.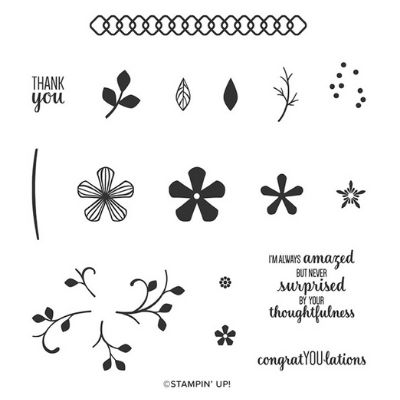 The Thoughtful Blooms stamp set is FREE with a £45 order and the co-ordinating Blooms Punch with a £90 order
You might be wondering what I used for the "kraft" scallop circle on my card. A long while back we used to sell "Kraft" cardstock, but no more, so I had to improvise but cutting up a brown paper bag! My picture below shows the other two cards we made on Friday, I am absolutely loving my creations with this set, it's such a useable one that will definitely be getting lots of use!
If you're local and would like to make one of these cards for yourself, why not pop along to my "Coffee and Card" session next Thursday morning at 10am, I'd love you to join me and see just how fabulous this FREE stamp set is, a photo never gives justice.
Now is a great time to join Stampin' Up!, our current Starter Kit is just £99 and includes £130* of product which ships to you for FREE, click HERE to find out more and right now there's extra products included during Sale-a-Bration, a fabulous Mini Paper Cutter along with a Designer Series Paper Sampler PLUS any Stamp set of your choice!!! To JOIN NOW click HERE it's quick and easy!