The Painted Poppies set from the new Mini is so beautiful, I love the clean simple images of the poppies which are just screaming to be coloured in! The question is, which medium will you use?
I kept this card as minimal as I could as it's part of my "6 Card Class" so no time for extensive colouring! I simply used the "splodge" image from the set to add a little "Pretty Peacock" colour to the flowers in a very subtle way.
If you're looking for inspiration with this, why not join me at my Painted Poppies class on Saturday 18th January, here at the Simply Pretty Studio for a spot of watercoloring using these stamps.
I know you all love a little co-ordination, just how "useful" are some of the extra dies in this set. I adore the labels, so practical and that little pretty "edge" die will add a finishing touch to projects.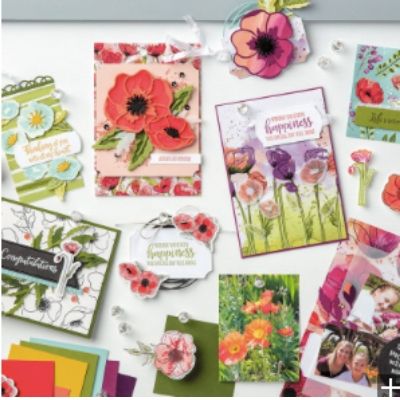 I know this set will be a popular one, it has endless uses and poppies grow in many colours so don't feel you have to stick to the traditional "red" version, I won't be for sure!
The bundle which includes the Stamp set and the Dies is £48.50 which means you can choose any SAB item for FREE if you purchase it!
If you'd like to know more about my upcoming class, please get in touch or simply sign up to my Newsletter via my homepage.
Thank you for stopping by, hoping to see you here again very soon!