At On Stage earlier this month, I came home with a bag full of lovely things, and inside was a Stamp Set called "Animal Outing", this was given to everyone who attended and was in my bag upon Registration.  As the day went on my bag became fuller!
I love how the images are sketched, so sweet, not comical or 100% true life but very very cute!  The set contains 10 stamps, 4 cute hand drawn images, 5 sentiments and an accent.  The set also co-ordinates with a Thinlits Die Set but I've not been able to order that yet, waiting eagerly though!  They are both part of a suite of products that all work beautifully together.
This set will be available on 1st June when the new 2018/19 Annual Catalogue goes live and will be perfect for little ones and old ones alike!  I love how versatile it's going to be.
I recently had news of a new baby on the horizon, so I decided to ink it up and create a card to send to my friend, here's how it turned out…..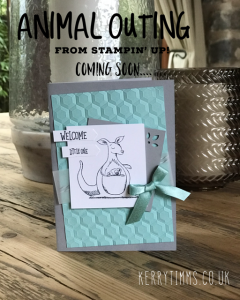 My colour combo is Smoky Slate and Pool Party and I added a piece of Vellum too!  Loving the Hexagons Dynamics embossing folder, the texture these folders create is amazing, and if you spritz your paper with water before running through your Big Shot Machine the result is even better!
Can you spot a new punch?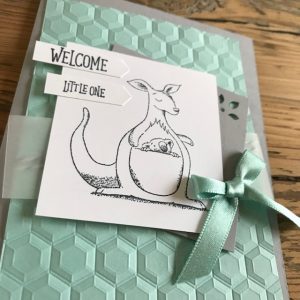 So now I need to find some time to shop for a little gift, then I can make a tag to co-ordinate!
Product List
If you would like to place an order online, don't forget about the new items added to the Clearance Rack and the Retired Sale, please use my latest Hostess Code if your order is between £30 and £150.