Following on from my previous post, here's a co-ordinating gift box to give with the Card.
Such a great sized box, a nice treat for someone, easy to put together, but it bothered me that you needed two sheets of A4 cardstock for the base and lid! After making this box, which holds 4 Ferrero Rocher chocolates, I decided to also design a slightly smaller box that holds 3 chocolates but only uses a single sheet of cardstock!
The flowers are coloured the same as before, using a Dauber and gently, working in a circular motion from the centre of the flower outwards. There is a shadow stamp to fill these flowers with colour but I loved the soft look the dauber offered.
Love the Mint Macaron ribbon, you will find it in the Mini Catalogue.
Here's another look at the Stamps and Dies, lots of lovely images and the dies are an absolute favourite of mine, I use them so often.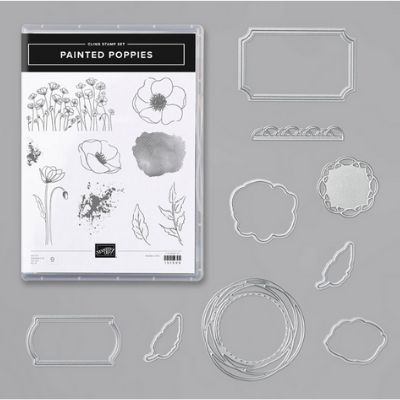 I hope you enjoyed my project, if you're local and would like to join a class and create projects for yourself simply get in touch to find out more. I provide pre-cut kits so no tricky measuring and cutting is required, simply bring a pair of scissors and go home with some lovely creations made by you!
Remember you can shop online with me for delivery direct to your door or if you're local simply call me with your order and I will deliver for free. Here's this month's Host Code, spend over £35 and add my Host Code to your online order for a small gift in the post from me to say thanks for choosing to shop with me.
PSA9PKTW