Morning everyone, the Retiring List will go live tomorrow, Wednesday 22nd April at 8.00pm. As sad as this makes me feel to lose products that I love, I can't wait to see the NEW Annual Catalogue that will be with us at the beginning of June.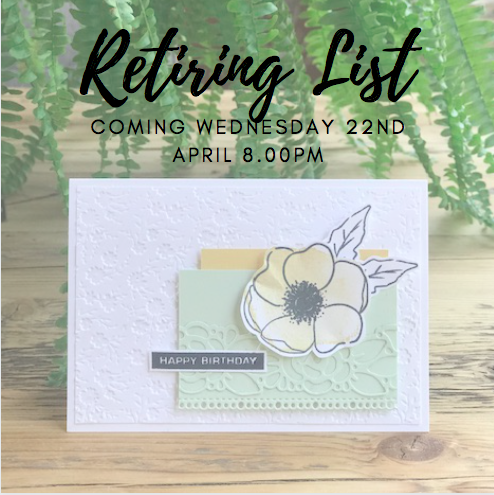 I will be placing an order tomorrow evening at 9.00pm, so if you are local please get in touch if you'd like to add something, but bear in mind that things WILL GO FAST, so the best way to ensure your get your favourites before they sell out is to go to my online store and shop for yourself.
You can visit my shop HERE if you've not registered an account with me before, you can do this ahead of time, it's quick and easy. Please give me a call if you have any questions about doing this, I'd be happy to help! Always check my name is at the top of the page to ensure you are shopping with me. I will apply a NEW Host Code so if your order exceeds £30 you will receive a little gift in the post along with a hand stamped card to say thank you for choosing to support my business.
I will email out the PDF lists of retired items as soon as I am able to, so if your'e not on my mailing list but would like to be added select this option from my Home Page.
Take care everyone x