Today was my birthday and as much as I would have wanted to spend it with my family back home, I was with my second family, my teamies. I was greeted with cards and gifts and have to say I felt very, very spoilt.
At the Main Stage it all began with beautiful dancers
then our official welcome by the amazing Sara Douglas.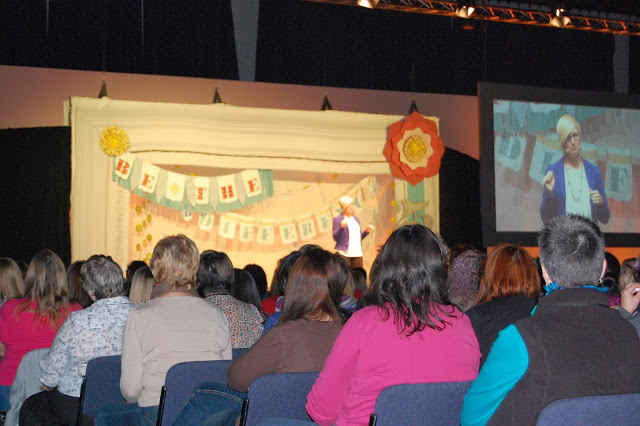 We had prize patrols, lots of exciting new products were given away and how tense it gets when we are waiting to see which colour band will be chosen for the Prize Patrol giveaways!
We sat and watched some amazing presentations, so very inspiring and saw so many sneak peaks, it was just so exciting!
We had several all attendee giveaways, this one contained products from the new "Undefined" range where you can carve your own stamps, just how brilliant is that. This was something I was lucky enough to try on the Incentive Trip and I must say that I need to practice a little on my drawing skills!
After the first main stage presentations we ventured off to visit the Expo, several demonstrator booths featuring amazing new sneak peak products in action, I just cant' wait to share them with you but will have to wait a while!
Here is Carol demonstrating a new Big Shot die
Here is the Recognition Booth, a place for everyone to visit who achieved a promotion in the last Stampin' Up! year, sadly I couldn't visit this year but fingers crossed for next year!
I was proud for 3 of my team members to visit here though, here's Sarah, she was joined by Bel and Diana too, well done my little inspirationals!
The tables settings were so sweet, shabby white washed chairs and old books stacked and tied with ribbon.
And before we knew it, awards night was upon us……
Here's Chris from Demonstrator Support in Germany along with Caroline
Sarah taking a photo op before heading into the Main Stage
Judith and Diana
waiting for the presentations to begin
It was difficult to get a good picture but here Caroline is doing the "march" for her Personal Sales, Congratulations!
I was very proud to take 2nd Place for personal Annual Sales this year, and I would really like to take this opportunity to thank all of my wonderful customers for helping me to achieve this and I am thankful to be able to share something I am so passionate about with others and really Make a Difference. Although I have worked incredibly hard to reach this goal, I wouldn't be where I am today without the loyalty of my customers.
Here I am on stage with the Top 5 Sales achievers. I also did the "march" across the stage for achieving next year's Incentive Trip which is an amazing Caribbean Cruise which will be very exciting. My sales were a huge part of achieving this trip but I really have to thank members of my team who earned promotions which helped me along my way, so thank you my Inspirationals, lets hope some of you will earn the next Incentive Trip in 2015.
When the Awards were finished we headed off to the 25th Anniversary Party, a live band, dancing and food, and of course, more photo opportunities.
Myself and Judith followed by Trevor and Irene
And finally a group photo of us, five of my Level One team then Trevor who is Caroline's Level One.
If you would like to be part of next year's Convention, why not join my team, Stampin' Up! really is a great family to be a part of and why not share what you love. For an informal chat please give me a call on 07717 068909.