THIS POST WILL REMAIN AT THE TOP UNTIL 30TH NOVEMBER
PLEASE SCROLL DOWN FOR THE LATEST POSTS
Today I have news of a lovely offer with a 20% saving.
"Tag It Bundles"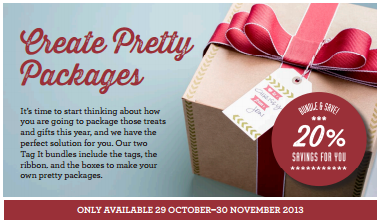 There are two bundles for you to choose from. Both include the "Stamp a Tag Kit", Cherry Cobbler 1″ Stitched Edge Grosgain Ribbon (10 yards) then a pack of Gift Boxes (either Window or the XL ones)
And you will find so many uses for them, not just for Christmas gift giving. The Stamp a Tag kit contains two mini ink pads and two stamps which you can over and over again for birthday tags or for many different occasions.
There's nothing better than dressing a gift with your personal touch and these bundles have everything you need to get started.
This offer is valid between 29th October and 30th November so why not save yourself 20% and get gifty in time for Christmas!
Remember you can purchase your items online via my shop, just click on the link below and have your order delivered direct to your door!
ooOOOoo
Now for those Digital Diva's, here's another great offer for you, 30% off selected season downloads.
If you haven't already downloaded My Digital Studio why not give it a go for just £13.95 or try the 30 day FREE TRIAL
The free trial offers a great chance to play with the programme and try it out before you commit to purchasing it. It's for 30 days and includes lots of pre-loaded stamps and kits waiting for you to be creative with. It's not just for scrapbookers, it's soooooooo much more. Create gifts for family members with ease using MDS.
You can choose either option via my online shop, click below to check it out
Click here to shop now