Stampin' Up! recently launched the "Kits Collection" a range of "all inclusive" kits that are a great introduction to the products if you're new to crafting. That being said, these Kits are great for those of us who already know and love the products!
Yesterday I ran a Zoom stamping session where I created one of each of the cards, along with the beautiful acetate box from the Sentimental Rose Kit.
I was blown away with how beautiful the Kit contents were and the quality is wonderful.
This Kit is just £18, which is outstanding value as it includes the following:

* Sentimental Rose Photopolymer Stamp Set
* Acrylic stamp block
* Gray Granite Classic Stampin'™ Spot
* Designed projects with step-by-step instructions
* Pre-cut pieces (No prep work! Get right to crafting)
* Makes 9 cards: 3 each of 3 designs
* Folded card size: 5″ x 3-1/2″ (12.7 x 8.9 cm)
* 9 printed, coordinating envelopes
* 1 acetate gift box: 3-3/4″ x 5-1/4″ x 1-1/8″ (9.5 x 13.3 x 2.9 cm)
* 1 printed designer box for storage or crafting on the go: 9-7/8″ x 6-1/2″ x 2-3/4″ (25.1 x 16.5 x 7 cm)
* Adhesive to complete projects
Here's the Stamp set that is included, such useful greetings included in this one….
So even when you've completed all 9 cards plus the box, you have these fabulous stamps to use on all of your projects with the Gray Granite Ink Spot that's included!
This was the first card I created. A little stamping with the Flower and Leaf stamps, then added this layer to the card base which was pre-printed, a greeting and some embellishments and it was done! It is so much prettier in real life, such depth to the flower stamp and even someone who has never stamped before could complete this with ease using the step by step instructions.
The acetate box comes to life very quickly, it arrives flat packed with pre-scored edges to make it super easy to assemble. Simply wrap around the pre-cut corrugated belly band and add pre-printed die cut flower and leaves with some of the twine tied around and it's complete.
Three or four cards fit lovely inside this box or you could add any little gift in their place if you wish with a co-ordinating card.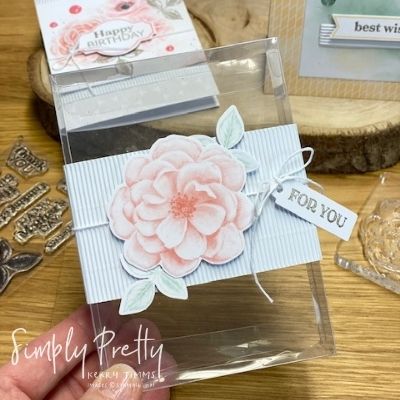 I was honestly extremely impressed with this Kit, the amount of products included for just £18 is incredible, as I've already mentioned, but the simplicity of creating the projects teamed with just how beautiful they are is definitely a win win. This would make such a beautiful gift for anyone, they don't need to have any creative skills to pop these projects together and everything they need is included.
The Kits Collection is not featured in our current Annual Catalogue, they are available through my Online Shop HERE and offered whilst supplies last. If stocks deplete new Kits will arrive which is super exciting! Please don't miss out on this one, it is STUNNING!
If you would like to see all of the Kits that are currently available, click HERE to head over to my Online Shop. If you have any questions, please get in touch.
Don't forget to add my current Host Code if your order exceeds £30.