On Saturday I drove our daughter Sophie to Heathrow for her onward journey to China to trek The Great Wall, all in the name of Charity. Such a huge step for someone so young to endure, not knowing who she would be travelling with or what obstacles she might face, I'm sure my feelings of anxiety for her are natural.
Leaving her at the airport was heartbreaking, but I know that the adventures that lie ahead through the next 12 days will be ones that she will cherish forever and look back on as another of lifes great experiences. Proud is an understatement.
My feelings of sadness became greater once I reached home and the WhatsApp messages came through, I long for her to be home and filling us with news of her adventures.
So with my son away on his holidays and Jay car racing it was just me and Alfie today. Thank goodness for creativity, it took my mind away from my family worries for a while!
I'm spoilt for choice on products to play with. Having the Annual Catalogue released in July then just recently the Autumn/Winter Catalogue I'm struggling to decide what to play with first!
I have a couple of favourites, in my previous post you will see how much I'm loving the "Merry Cafe" set.
Now as crafters we like to get ahead of ourselves when it comes to Christmas creating, but often I find I burn myself out by November as I've jumped in both feet first so this year I'm trying to be more restrictive on just how much time I spend creating Christmas projects, it's trying to find that balance when there's so many nice festive products arriving on my doorstep!
So today I'm going to share something festive, and although I've created tons of Christmas things already, I've not actually shared them here, so here goes…..
My card uses a set called "Carols of Christmas", love how easy this set is to use, the fact that it has co-ordinating dies makes it easy to be creative. I love everything about this set, the deer, the trees, the ornaments and the little elements that can add some finishing touches too!
I created a really simple card, of course you could add more layers but this took very little time to create and I love it's simplicity.
A couple of mini sequins and some thread add a little glitz to sparkle things up.
So I hope I've inspired you to make a start on your Christmas Crafting if you haven't done so yet. If you're planning on giving handmade cards this year then there's no better time to start making them than now!
If you'd like to place an online order with me, don't forget to use my Hostess Code if you're order is over £25 but less than £150
Click on any of the product images below to be directed to my shop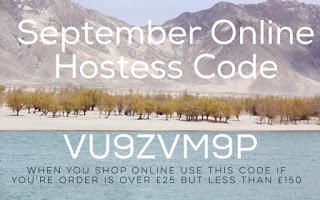 To say Thank You for shopping with me I will send you a hand stamped card and a gift next month in the post
Product List