So today was spent mostly on the road, as Jason is away car racing in Snetterton it was down to me to drive Jack to Leeds to buy a new car!! We left at around 8.00am and didn't arrive home till nearly 5.00pm. A 3 hour drive each way with a little stop in between "doing the deal"!! I found the driving really tiring and glad that we have a taxi arranged to take us to Manchester for the 2013 Convention in less than 2 weeks time. I am getting so excited but have so many tasks to complete in the meantime.
Onto another project using the Simply Created "Christmas Banner Kit"
So here is the kit itself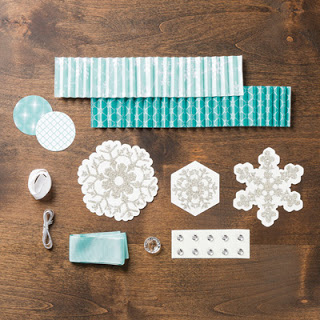 For £8.95 you get
Die Cut Glittery Snowflake Accents
4 Patterned Paper Strips pre-scored for rosettes
Patterned Paper Circles for Rosette Centres
Large Rhinestones
2 Pieces of Silver 1/8″ Ribbon
2 Pieces 2-tone Ribbon in Bermuda Bay/Pool Party
Whisper White 5/8″ Taffeta Ribbon
5 Faceted Designer Buttons
Here is a card I created with parts of the kit. You can see I used Ribbons, a Rhinestone and a Patterened Paper circle. The 1 1/4″ Two Tone ribbon is gorgeous.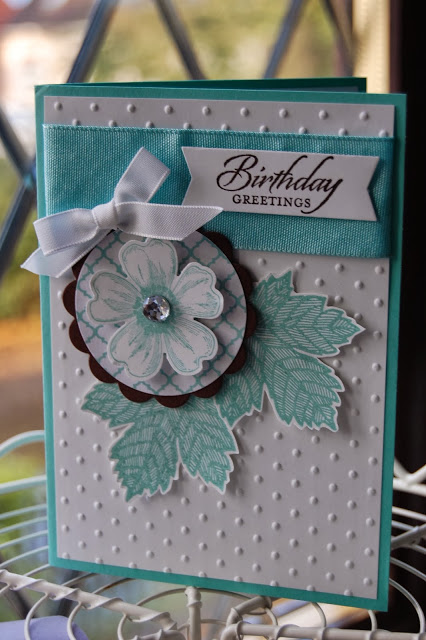 Here's a closer shot of the ribbon
I used the "Flower Shop" set for the pansy flower then the single stamp "Magnificent Maple" which has so much detail on. The greeting is from the "Wetlands" stamp set die cut using a framelit from the new "Thinlits Circle Card" set.
I hope you are enjoying the projects I have created with the kit, come back soon for some more inspiration.