On Wednesday, Stampin' Up! chartered a flight and flew us to Kanab to their Manufacturing Facility, how amazing is that, and we also made history that day as our plane was the largest one ever to land at Kanab Airport!
On our arrival the staff came outside to greet us, it was a lovely welcome.
We sat and ate before going on our tour of the facility and our napkins were decorated along with a lovely wooden tag hanging from the water, loved all the finishing touches.
Our tour began, it was amazing from start to finish, so many things to take in and to see how the stamps are made and packaged, I can't tell you how much I enjoyed this day. Here I am with a lady who is putting image sleeves into the clear cases then popping in the stamps!
This "food mixer" machine is used to put the ink into the firm foam pads for inserting into the cases
It is then put by hand (well tweezers) into the case
then wrapped ready for shrink wrapping
This man cuts the cardstock using this huge guillotine, it cuts all those sheets in one go with ease!
and here the cardstock is counted and sorted
then shrink wrapped and labels put on
Here I am with Tracey, having so much fun watching and learning how our product is prepared and packed ready for distribution
Look at the huge rolls of rubber!
I was lucky enough to put foam on the back of the rubber, then trim it,
ready for die cutting which was amazingly quick!
This guy makes the Mag Plates that are used to make the moulds for the stamps, they are like a metal template and there is only one mag plate for each set of stamps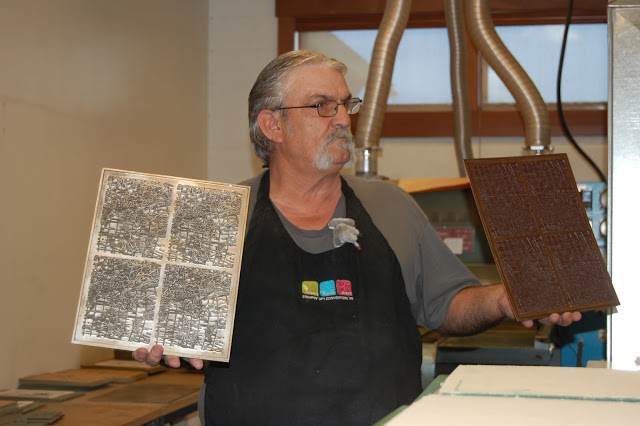 We were also invited to look around the apartments, these beautiful rooms are where Shelli and staff members stay when they visit Kanab as it's a fair distance to travel and return in one day. This is where Shelli stays, lovely vintage furniture and pretty bedding.
This room was open plan with the Kitchen just to the right of this picture, a lovely huge fireplace surrounded by patterned sofas and pretty cushions
Everything was so pretty, lots of attention to detail
Back at the facility, this machine chops up the waste pieces of rubber
and then the most amazing thing happens to it, Shelli funded a playground area in Kanab, set in a beautiful place with lovely views and the rubber sits beneath the play equipment to make soft landings for the children. That is just such a beautiful thing to do.