So all good things have to come to an end hey!
On the final day, I played Plinko and won a prize which I can't share with you yet, I packed up my box of goodies to ship home, Stampin' Up! allowed us all to send home a box as we had so many goodies given to us.
I relaxed here for an hour after a brief shopping trip for another handbag, Jay was off with the boys at a shooting range
And before I knew it the final night drew near. We had no idea where we were going, we were just warned to wear comfortable footwear!
We arrived at the Red Cliff Ranch in Heber Valley where we were greeted with drinks and nibbles. We had the most amazing night, so much fun and a great relaxing time socialising with everyone.
Inside the entrance hall of the venue
We had a delicious bbq dinner and sat in this beautifully converted cattle shed, I stole this picture from Monica!!
The flowers on our table were beautiful
The views were lovely
And here she is, clicking away, my personal hair plaiter, the lovely Monica.
After dinner there were Smores, a spot of line dancing along with lots of fun, laughter and chatting
Toasting the marshmallows!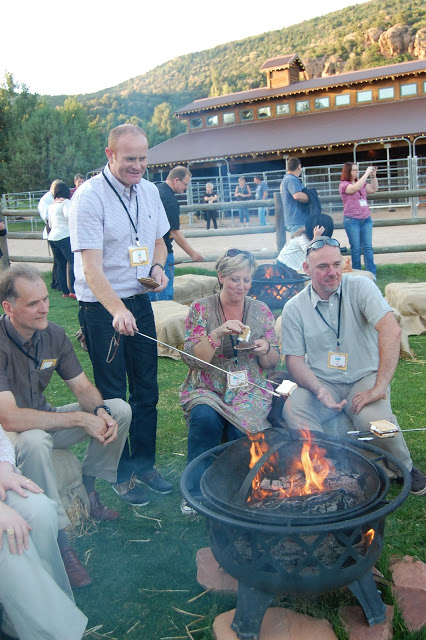 What a gorgeous couple, love this picture of you both
and Tracy too
Some of us UK girlies before heading back on the coach
I had the most amazing trip of a lifetime, thank you Stampin' Up! for giving me the opportunity to spend time with other demonstrators and experience something very special and thank you to all of my loyal customers and team members who have helped me to achieve this success.