Well it is what it says on the packet "Charming", such a lovely set of 7 stamps and at a great price of £13.95 you really don't want to miss out on this one.
I will be placing my last order this afternoon for products that are in the Spring Mini Catalogue so if there's something in there you like, you need to get in touch with me today as tomorrow they will be gone!!
So here is the set, I love how we can use the Marker Pens to colour in that flower to get a multicoloured image and the script is just so useful to give that vintage feel. The gorgeous frame co-ordinates with the Decorative Label Punch making ease of creating titles or journalling spots for your scrapbook layouts and if you click on my photo you will see I have used the lovely ornate circle to create a soft subtle background.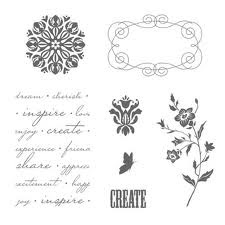 So it's not too late yet, give me a call on 07717 068909 before 2.00pm today and I will put your order through and before you know it this little beauty will be yours forever!
JUST A COUPLE OF PLACES LEFT FOR MY ALL DAY EVENT ON 12TH MAY, BOOKING CLOSES TODAY SO PLEASE CONTACT ME ASAP TO SECURE YOUR SPOT.