We have received some very important news this morning from Stampin' Up! regarding our Whisper White products which I need to share with you, but don't be too alarmed at this instant, read through the information below to see that a solution has been found.
Here is what Stampin' Up! have said…… "Whisper White has been a Stampin' Up! staple for so long. We love it and we know you love it, too. We are sad to announce that the supplier's mill producing our Whisper White cardstock has permanently closed due to impacts from the COVID-19 pandemic. Unfortunately, we weren't given much notice on this closure. This means that the technology unique to this particular supplier is now unavailable to us and we can no longer offer our Whisper White cardstock and related products, such as Whisper White Note Cards & Envelopes. Please note that this won't affect any of our other cardstocks, this only affects Whisper White".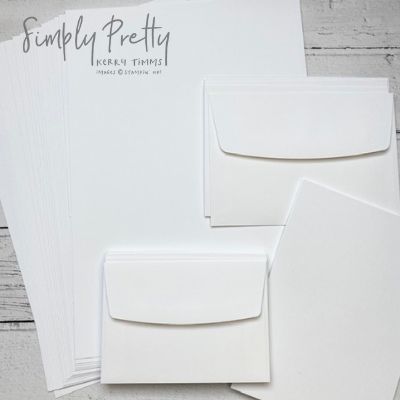 "We know Whisper White has a huge fan base; we're big fans, too! And we are crushed that it's going away. Even though this decision was out of our hands, rest assured that we jumped right into action to find the best replacement paper possible. We have dedicated many hours to source and test alternative cardstock options from several suppliers to find the perfect fit that still maintains the Stampin' Up! quality you know and trust. We are happy to share that we have found a winner for our new cardstock, Basic White!".
This means that stocks of our current Whisper White could run very low very quickly and ordering has been reduced to 2 items per customer. We are excited though, that the NEW Basic White will be taking it's place.
Here's this list of items that will be retiring:
Whisper White 12″ x 12″ (30.5 x 30.5 cm) Cardstock (124302)
Assorted Memories & More Cards & Envelopes (149710)
Whisper White Note Cards & Envelopes (131527)
Whisper White 3″ x 3″ (7.6 x 7.6 cm) Envelopes (145829)
Whisper White A4 Cardstock (106549)
Whisper White A4 Thick Cardstock (140490)
Whisper White C6 Envelopes (106588)
I suggest that you might want to "top up" now, especially as shipping delays are expected in the run up to Christmas. Please remember you can only order 2 of each item at present for Whisper White products. If you are fully stocked, then look forward to trying out the NEW Basic White range.
If you click on an image below, you will automatically be re-directed to my Online Shop and DON"T FORGET about my GIVEAWAY this month. Each £30 order placed online with me, over £30 has their name put into a draw and I will be GIVING AWAY ONE MINI STAMP & CUT EMBOSS MACHINE!!!!!
Product List