A couple of months ago I was honoured to be asked to partner with Stampin' Up! in a series of videos called
Stampin' Chat
I had so much fun being a part of this team to create the "Chat Show" style mini videos which share our experinces as a Demonstrator.
If you're looking to earn an extra income or just want to get a fabulous discount on your Stampin' Up! products, the videos will give you a little insight as to how different we all are as Demonstrators and just how much fun we have doing something we love!
These videos will be posted on YouTube twice a month, through to December and you can catch the second video on Wednesday, I can't wait to see it!

We really did have lots of fun creating these videos, and next time you should see us getting creative too, well, we can't get together without stamping can we!!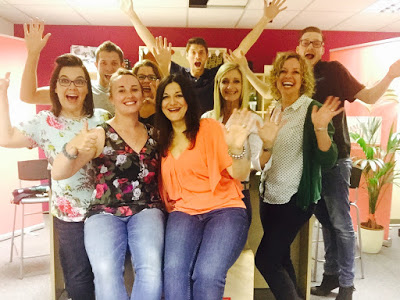 If you'd like to find out more about joining my lovely team of stampers, just get in touch, I will there to help with any advice I can, it will be totally informal and of course there is never any obligation to join.
Being a Demonstrator has given me so many fantastic opportunities and I have made the best friends and watched friendships grow and glad to be part of an amazing community of crafty people.