My feet haven't really hit the floor since I returned back from Madeira late on Monday evening, I have been preparing for a class on Friday and Team Training on Saturday and tomorrow I will be travelling to Fareham for a long day of training so I'm thinking it will all hit me on Saturday night when I get a chance to sit down!
Jason has gone off to Spa in Belgium where he is racing his car so I'm planning on some early nights to try and catch up with myself!
Hopefully over the weekend I will get the opportunity to post some more pictures from Madeira.
I designed today's card with a masculine theme in mind and I like how it turned out.
My colour combo is:
Basic Gray
Smoky Slate
Tip Top Taupe
Mint Macaron
I've used the gorgeous RMHC stamp set called
"Sprinkles of Life" for the tree image
I love how this set is just so versatile and how the Tree Builder Punch co-ordinates with it to make crafting so much easier. The punch also cuts out the cute little birdie too!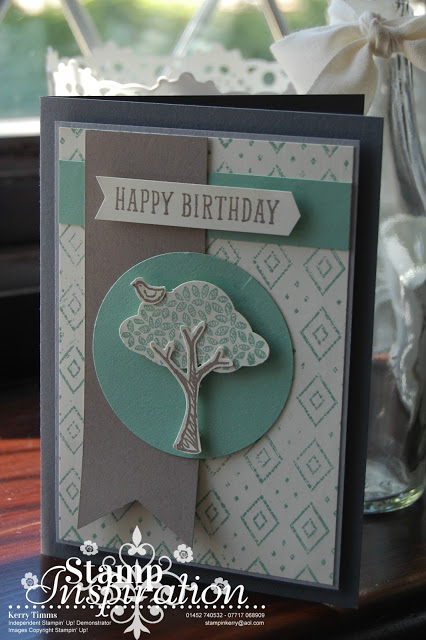 I used a technique to create my "diamond" background
I inked up one side of my "Boho Chic" embossing folder with Mint Macaron Ink
Next I placed my piece of very vanilla very carefully inside and closed up the embossing folder, then took a bone folder and applied pressure to the top of the folder to press the ink onto the paper
Lovely don't you think, and great to get another use out of your Embossing folders too!
Now I've used another new punch on this card, can you spot which one it is???
Leave me a comment and I will pick a name out and send that person a little gift!
Don't forget to check out the latest
you can view them
here
via my online shop