Tomorrow see's July's Big Shot Class and I haven't even got around to showing you what we made last month, so here it is.
A gorgeous Book Mark Card with matching Gift Box in the most mouthwatering colours of Wisteria Wonder, Lucky Limeade, and Whisper White.
I cased the Bookmark Card, I fell in love with it as soon as I saw it, saved a picture in my folder and now can't give the credit to where it came from. I loved how simple this was to create, something I had made a long time ago when I first became a demonstrator, but with the release of the new Simply Scored tool it is just a breeze to put together.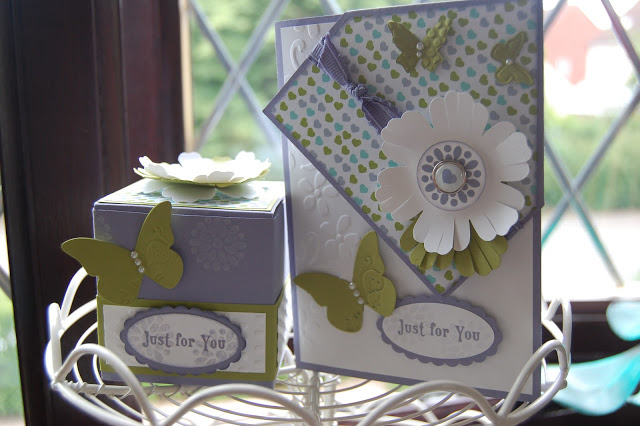 These were perfect for my Big Shot Class, lots of embossing required!
We used the Blossom Punch for the flower, I am getting so much use from this punch, I love it!!
The DSP is from the Sweet Shop pack and has some really cute designs, love the hearts paper here which also co-ordinate with the new Adorning Accents Embossing Folders. This paper has all the new In Colours which I am so drawn to, finding it hard to steer away from them.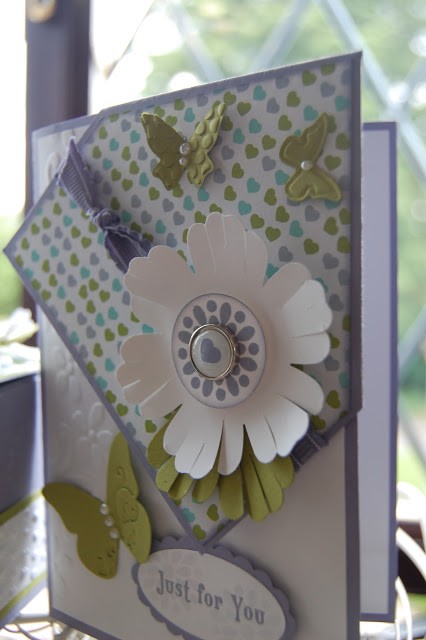 The box embelishments evolved from the Book Mark, I like my projects to co-ordinate so I decorated it with the same Blossom Punch and Butterflies.
The "Just for You" sentiment is from the "Tea Shoppe" stamp set which I am using all the time as I love the style of the font.
We stamped one of the flower centres from the "Mixed Bunch" stamp set in Kraft White ink onto the Wisteria Wonder box base.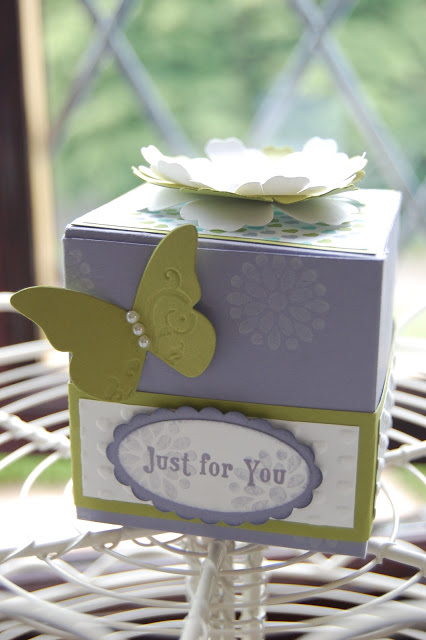 To order any of the products used in my Big Shot Class, just give me a call or email me at
stampinkerry@aol.com
for information and advice. Book a party to receive a Free Idea Book and Catalogue and the opportunity to earn yourself lots of lovely free goodies!