…. if you still haven't purchased the Create a Cupcake Stamp set and co-ordinating Builder Punch, they will only be available to order until 30th April then they will disappear, and who can tell if they will make another appearance in the new Idea Book & Catalogue later this year!
So here is something I have been demonstrating at my workshops, the good old Pillow Box, perfect for hosting a little gift, money or even a voucher:
The first uses patterned paper from the "Nursery Nest" Designer Paper Pack and these can be yours for FREE with a £45 during April. I have used co-ordinating subtles colours of Pink Pirouette, Certainly Celery and Marina Mist, subtles are my all time faves, just in case you didn't know!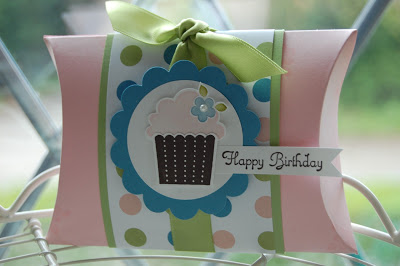 The second is exactly the same but using the "Berry Blossoms" papers which you can too earn for FREE during April with a £45 order and I have teamed it again with co-ordinating In Colour products, love that Ruffle Ribbon.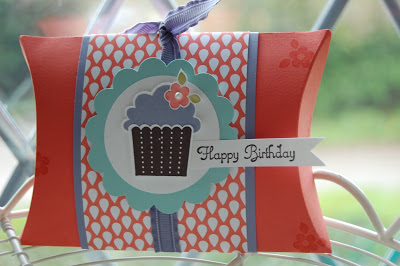 If you would like to book a party just give me a call and we can arrange a date to suit, anyone who has been to one will agree that its a great fun night in, being creative with your friends with the opportunity of earning yourself some gorgeous Stampin' Up! products for FREE!
I ALSO HAVE A FEW SPACES LEFT AT MY ALL DAY EVENT ON 12TH MAY AT WHITMINSTER, £35 TO INCLUDE YOUR OWN STAMP SET FROM THE UPCOMING SUMMER MINI CATALOGUE, LUNCH AND ALL THE PRE-CUT KITS TO COMPLETE YOUR PROJECTS FOR THE DAY!
BOOKING CLOSES 30TH APRIL 2012