Well I hope you didn't eat too much chocolate over the weekend, there's something about an Easter Egg that tastes different to the usual bar of choccy, straight out of the fridge of course so it cracks when you break a piece off!
I was hoping to share these projects with you before Easter but time ran away with me what with the return of my little Angel from her Ski-ing trip and then off to Motorcross on Saturday, returning yesterday with lots of very muddy kit to wash now is my only opportunity before it's just too late!
This little egg box was created using the Milk Carton Die, it's the perfect size to hold those foiled eggs. The bunny was inspired by one created by Mary Fish and it was just tooooo cute to be ignored and so I had to re-create it! It uses the Small Oval, 3/4″ Circle and Blossom Builder Punches, very quick and simple to put together. His tail uses one of the Bitty Punches which I find so much use for, the set comprises of two mini flowers and circle punch.
Whilst in the flow of Easter and wanting to share more bunnies I die cut a Pillow Box and decorated it again using the Itty Bitty Stamps then added one of those gorgeous die cut Daisies from the Blossom Party Die. I will be sad to see this die go at the end of the month, I seem to be using it all of the time, the flower sizes are just so usable on your cards.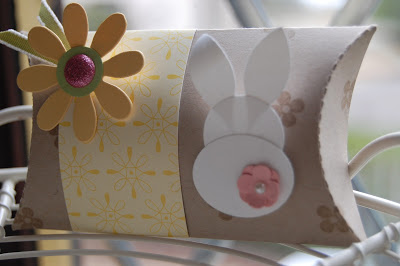 Well I really must dash now, have my Scrapbooking and Big Shot classes tonight so need to organise myself.
Back very soon