I had seen on my blog hopping travels an Easel Card made using the Two Tags die and wanted to have a go at it myself as it looked so pretty and delicate.
Again I used the same colours as my Bookmark Card, Wisteria Wonder, Concorde Crush and Very Vanilla.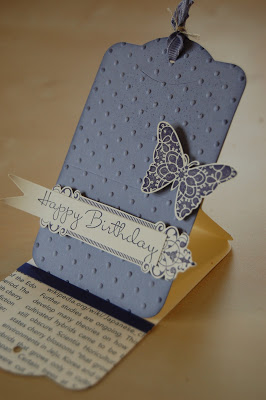 It looks complicated to put together but is really simple and just requires a folded piece of Very Vanilla, positioned just below the cut line on the bottom of the tag outline to create a folded edge rather than cutting two separate tags.
My Big Shot Class is designed to help you get the most use out of your dies and believe me, this Two Tags Die is definitely not just for cutting out tags, it has many uses and can even be used as the base for a small box!
We did some embossing on the Big Shot using the Perfect Polka Dots folder, I love how deep the impressions are on the Stampin' Up! folders, and how a simple piece of cardstock is transformed into a textured layer with simplicity.
Don't you just love this butterfly!
Back with the final project very soon.
I have an all day event tomorrow "All For The Boys" so will hope to have some pictures to share with you too!