I have so many things to show you but just not enough time to catch up with myself at the moment, so here is a layout from a previous Scrapbooking Class, following on the theme of the Fruit and Flowers stamps that we used at my all day event. The inspiration from this one came from the front of the Mini Catalogue, I just rotated the sketch to work with my photo.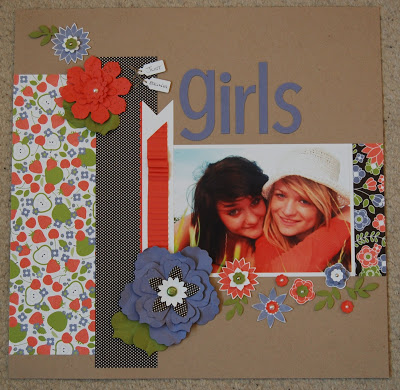 I can't tell you enough (well those of you how see me at workshops and classes will know this as I am always harping on about it) how much I am loving the new In Colours, they are just so great with each other and work well with so many others too.
These products are from the Berry Blossom suite, the papers are gorgeous and the stamps are very versatile. We used two of the Big Shot dies for this layout, the Blossom Party which is the Calypso Coral flower at the top and the Fun Flowers XL die which is the Wisteria Wonder one to the bottom.
These papers are quite bright for me, I am a subtles girl at heart, so I like that the Crumb Cake base tones everything down a little bringing in a bit of neutral ground to which we spritzed in the same colour although not visible on the photograph. We added glimmer brads and pearls to the centres of the flowers and I was pleased with the finished result, the photograph doesn't do those 3D flowers any justice, they are just so pretty and cut in no time with the Big Shot.