Morning all, after a frosty start the sun is now shining here, fingers crossed it will stay! Below is the card I made for my Mum for Mother's Day yesterday, a very soft and subtle colour combo of Crumb Cake, Pink Pirouette and Very Vanilla.
I used stamps from the set "Everything Eleanor" which I adore, so what better choice than to use them on a card for my mum.
The Designer Papers are from the "First Edition" speciality pack and you get a whole 24 sheets in this set, they are so versatile and look lovely when you stamp over them.
My greeting is from "Teeny Tiny Wishes" which has 24 greetings in this set to suit all different occasions, you can find it on Page 86 of the Idea Book & Catalogue.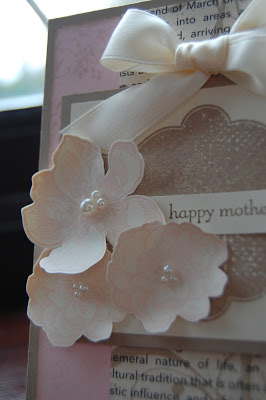 Although difficult to see in the photograph I have used the little flourish stamp from "Easter Blossoms" on the Pink Pirouette layer then daubed around the edge in Crumb Cake ink. I also did a little Spritzing which I seem to be doing on everything lately!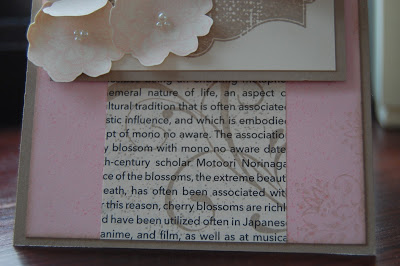 To finish I added some Pearls to the centres of the flowers and a bow tied with Very Vanilla satin ribbon.