"Season of Joy" is one of my all time favourite Christmas stamp sets, I love it even more as it can be used for non-Christmas cards as the Poinsettias can easily pass for flowers if using subtle colours and that swirl just has so many uses.
My colour combo here is Real Red, Old Olive and Whisper White. That spotty scallop ribbon is making an appearance again, can you tell that I love it, the Cherry Cobbler version is even more delicious!! Such a sweet and simple design here.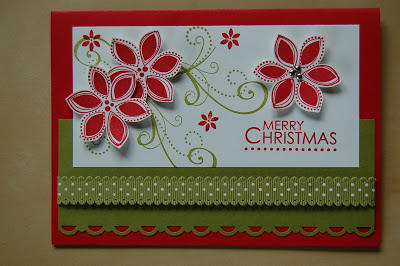 The Poinsettia's have been hand cut and layered using Dimensionals to make them stand out and on one I have added some of those cute little mini silver brads, they are just £2.95 for 200 of the little beauties and I have been using them on everything!!
Back soon with some piccies of my birthday trip to New York and Canada!