This time last year I ran a couple of Marker Pen Shares and I have decided to run with it again as it is such a great idea, not mine I might add! Here's the details:
Would you like to own the complete set of Stampin' Write Marker Pens in their sturdy Carry Case? They are really great marker pens which are double ended with a thick brush tip and fine end for journalling. You can use the pens to colour onto your rubber stamps to create multiple coloured images, for water colouring, colouring in neutral ribbons, colouring on vellum to create stained glass images, the list goes on and the beauty is that they co-ordinate with all of the Stampin' Up! colours so you will have every colour to hand.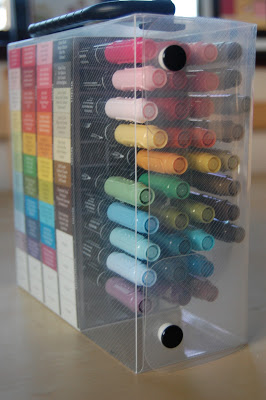 I need 5 people to join the share, each will agree to pay £29.95 per month for a total of 5 months.
Each month you will receive:
A colour family of Marker Pens
A pack of A4 Assorted Cardstock
For one of the 5 months you will become the "Hostess" and receive "£25 Hostess Pounds" to spend on anything you wish from the catalogue, this includes the exclusive Hostess selection.
By the end of the 5 months you will have:
48 Marker Pens (this includes the 10 In Colours)
The Carry Case
6 Packs of A4 co-ordinating cardstock for each colour family
If you join this club you are commited to the whole 5 months and I will require payment on a set date every month, either by Cash, Card (Visa/Mastercard), Bank Transfer or Cheque.
I already have a couple of ladies interested in this Club so please let me know asap if you would like to take part and we can get the ball rolling!
There will be a postage charge at cost to send out your monthly Markers, Cardstock and Carry Case but if you are local you can collect from me or at a class.
Email me at stampinkerry@aol.com or call on 07717 068909 for further information.