At this month's Big Shot Class we concentrated on ways of using the "Milk Carton" die.
Here are our three projects, a Milk Carton Carrier, Butterfly House and Cracker: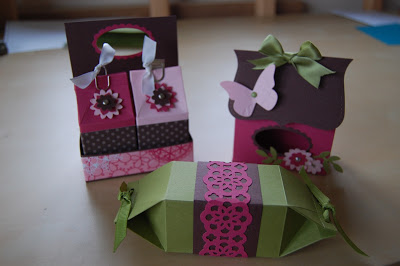 and a close up of the Butterfly House which I am sure you will have seen before. I was inspired by Hayley Gillie who had a Christmas Version of this little house on display at our recent show in Bristol and then saw that Jenny Moors had a feminine version with a bird and I just fell in love with the size of it, much bigger than the general Bird Houses we have all made before.
Isn't it cute, would hold a lovely little gift inside don't you think!
If you would like to learn new ways of using your dies with your Big Shot, why not come to my next Big Shot Class at Whitminster Village Hall on Tuesday 15th November, 7.00pm.