I have soooo many things to show you but soooo little time but I promised I will get around to it all at some point soon!!!
As promised, here are some more piccies from our Christmas Extravaganza.
We had three separate sessions throughout the day and here is one, a gorgeous gift bag containing three little Milk Carton's which would be great to fill with sweet treats. We used the Large Spot papers from the "Jolly Holiday" Designer Papers which has sadly now sold out 🙁 so that it could be used for a general birthday or gift rather than being just for Christmas.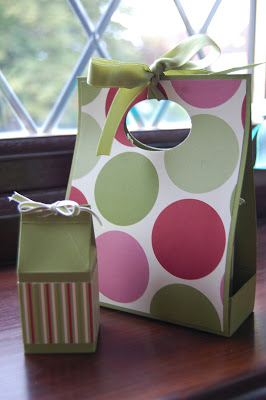 Another session involved making this cute little Gift Card Holder, something Amanda showed us a our previous training event.
Everyone also made 10 cards which I will show you later!