Earlier this month it was Gaynor's birthday and she was the first person I sneaked new products to with her Birthday card! This is the gorgeous new stamp set called "Pennant Parade", bunting lover's paradise!! Gorgeous stamps designed to co-ordiate with each other to make the most delicious bunting on your cards or scrapbook layouts, and to add to it, the "Petite Pennants" Builder Punch that punches each piece out with ease, it just couldn't be simpler!
Personalise your cards and projects with names, places and numbers, I mean, who doesn't want a birthday card reminding them that they are 21 again!!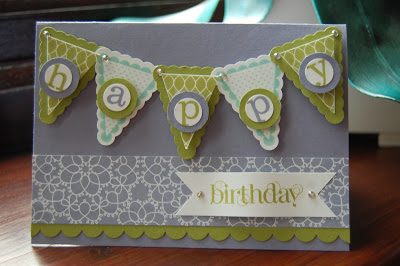 So to top the beauty of this little number I used some of the new In Colour's:
Pool Party
Wysteria Wonder
Lucky Limeade
They are gorgeous too, and work lovely together.
I used the "Just Perfect" Alphabet Stamp Set to create the "happy" word, punching them out with circle punches and "Curly Cute" stamps for the "birthday" bit making a flagged banner.
Of course I added lots of bling using the Rhinestons and some of the new Designer Paper called "Flirtatious" which is from the Speciality range.
Want to see these products in action, why not host a party and earn yourself some delicious Stampin' Up! products for free. I have a couple of spaces for November, just give me a call!
New Catalogue launch is tomorrow, watch this space ……..