Another creation using the Pillow Box Die, this time using two "part cut" shapes and sticking them together to make a longer version of it's original size. Again this was one of my Inspiration Station samples so I kept with the colour scheme of Baja Breeze, Soft Suede with Very Vanilla and some of the "Elegant Soiree" Designer Paper.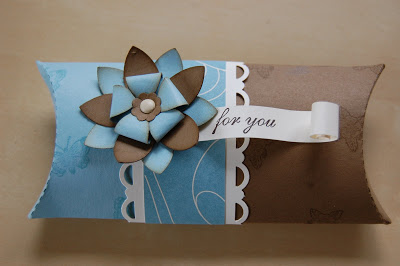 The gorgeous 3D flower was inspired by a swap recently received from Amanda Fowler, thank you for the inspiration!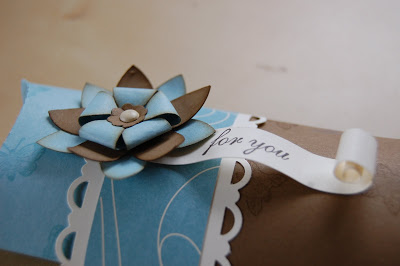 The stamps were from the "Clearly for You" stamp set which you can find in the Mini Catalogue, it is such a lovely set and very versatile, I just love that cute little butterly stamp.
Back soon with my recent class cards, thank you for stopping by, do leave me a comment so that I know you were here!