Well another windy day again, a little damp here in Gloucestershire too, not good as I was planning a run in a short while (in training for the Race For Life)!
A card to show you today, one we created at our Making Gifts & Cards Class this month, at this class we create one card and a 3D project.
I wanted to do something a little more adventurous this month so I came up with a Suspension Card.
The stamp sets used were "Strength & Hope", "En Francais" for the background, "Growing Green" for the flower (which of course could be substituted for a greeting) and "Clearly for You" for the greeting.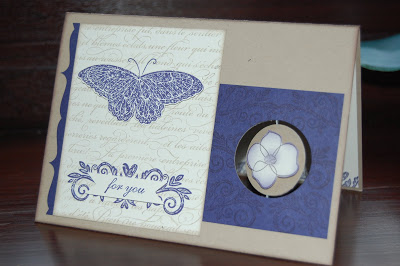 The colour combo is Concorde Crush (In Colour), Crumb Cake and Very Vanilla.
The curly Concorde Crush border to the left of the card was created using the new Decorative Label punch.
Busy preparing for my Owl Class on Thursday evening but will post a picture of the 3D project we made shortly.