At this class we make 6 cards that are simple but adorable and easy to replicate. The class costs £10 but if you place an order from the catalogue for £20 then your class becomes free, a great way of building up your stamping stash gradually and you get all 6 cards to take away to inspire you!
Please excuse the upside down image on the top row, Picasa was playing games with me when I was editing the photos and time was against me so I gave up, you can get the idea and in fact it just shows that if you twisted the sketch around the card would still work (of course with the greeting the right way up!!)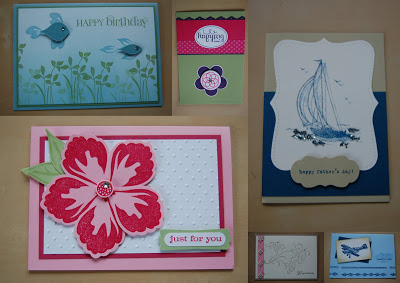 We are getting lots of use of the Big Shot Machine at my classes and everyone is loving it, beautiful textures and shaped layers at the roll of a handle!
The beauty of this class is that you get to use lots of different products, stamps, punches and accessories so you really get to try before you buy!!
If you would like to book a place at the next class on Wednesday 1st June, 10.00am – 12.30pm just call me on 07717 068909 or email me at
stampinkerry@aol.com
.