Afternoon everyone, looking a little grey out there now, hope it doesn't rain!!
Another card today using products from the Mini Catalogue, in this case a gorgeous new stamp set called "Build A Blossom" which has a co-ordinating Punch, woo hoooo I hear you say, yes, I love how the punches work with the stamps too, it saves sooooo much time……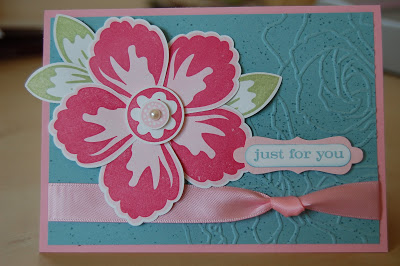 So "Build a Blossom" is a 2 Step Stampin' Set that requires the use of the Stamp-a-ma-jig although you can use these stamps to build flowers without it. Firstly I stamped a Pretty in Pink flower base then added the second stage over the top in Rose Red ink, it is hard to see from the picture as the base of the flower almost looks white. The "leaves" are not actually the leaves from the set, these are flower petal stamps but I liked them as leaves!! Now if you are liking this set, it is available in Wood £24.95 or Clear Mount £19.95 and the co-ordinating "Blossom Petals Punch" is £15.50.
The Marina Mist layer has been embossed using the "Manhattan Flower" Textured Embossing Folder, now you can't really see from the picture but these Embossing Folders create a very stong embossed image, they are beautiful. The Embossing Folders are all priced at £6.95 and will give you endless possibilities for your cards and projects turning an ordinary piece of cardstock into something special. I have used my Spritzer Tool on this layer to add to the effect.
Now that isn't a new label punch, well not really anyway!! Its the new "Decorative Label Punch" and I have trimmed down the original punch out by positioning it back in the punch and punching it a second time!
I have a busy week of classes but will try to get back to you soon with some more "Mini" creations!