Firstly, I would like to say a huge thank you to all of my customers and blog viewers for a wonderful year of stamping throughout 2010 and I look forward to stamping with you in 2011!
So the first class of the New Year is my Scrapbooking Class. This is a monthly class held at Whitminster Village Hall on a Tuesday evening where we create 3 layouts, all provided in kit form so all you do is add your photographs, couldn't be simpler!
Here is the first layout for the class, we will be using the Designer Series Paper range called "Play Date" which is equally as masculine as it is feminine:
This layout is of my little man, well he's not so little any more and has progressed from the Quad bike to a Moped, eeek, at least now he has a bit more fear than he did at the age of 4!!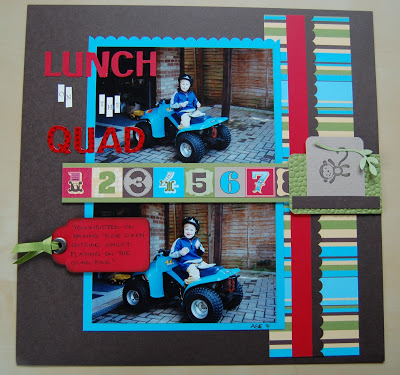 The colour combination is Early Espresso, Tempting Turquoise, Real Red and Old Olive. I die cut the words Lunch and Quad stamping "Quad" with "Dot, Dot, Dot" and covering with Crystal Effects. I used my stamp set "Basic Phrases" to stamp the words "on" and "the" by stamping out random words and cutting only the letters that I needed, perfect!