Sorry for the lack of posts, I have been very busy preparing for our Extravaganza which is tomorrow. Jane and I have been busy cutting and sorting for the last couple of weeks ready for the big day and we are both looking forward to it, hope those of you coming are too!
Back to my Scrapbooking Class, the final layout as promised: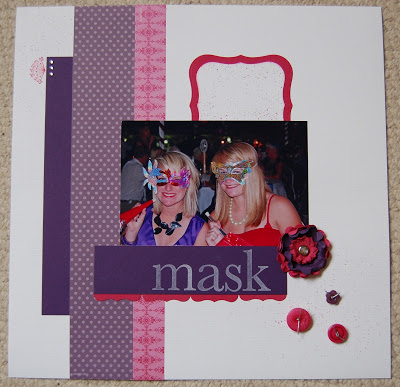 The patterned papers are from the 12×12 Designer Paper Stack in the subtles collection which is gorgeous. We created our 3D flower using the Scallop Circle and Boho Blossoms punches adding a Clear Rhinestone brad to the centre. We also added some of the delicious Designer Buttons for extra texture to our page. It is difficult to see from the photograph but we used the Colour Spritzer Tool to create a soft subtle background with the Rose Red Marker Pen.
Well I have to be off now, still have a few finishing touches to prepare for tomorrow, back soon with pictures of our day!