Back to the class at Alveston this week, this was our 3D project, a lovely Christmassy Pillow Box!
Our colours were Soft Suede, Cherry Cobbler and Baja Breeze taken from the Colour Coach.
The stamps we used were from "Serene Snowflakes" and "Contempo Christmas".
We stamped snowflakes from the "Serene Snowflakes" set in Kraft Whisper White ink all over the Soft Suede base and Cherry Cobbler belly band. The layer beind the Cherry Cobbler piece is Baja Breeze. The Ornament stamp is from "Contempo Christmas" and we stamped this 3 times then punched them out using the Ornament Punch, sticking them together to create a 3D decoration for our Pillow Box. We tied a piece of Organza ribbon around the whole box with a knot just above the ornament so it looks like it is hanging from it!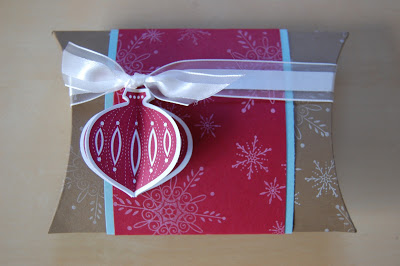 When using the Kraft white ink you need to remember that it is a Pigment Ink, therefore it dries much slower than the Classic Stampin Inks but the effect is gorgeous on deeper colours.