This was our first make and take project, a Gable Box, the perfect little gift box that can hold a variety of treats and surprises!
We used the "Big Bold Birthday" stamp set which suits all ages, male and female, colour dependant! Obviously this one is very girly but could be re-created in more masculine colours and still look as fab. These make great "Teacher" gifts too, just throw a few choccies inside and hey presto, quite easy to put together too.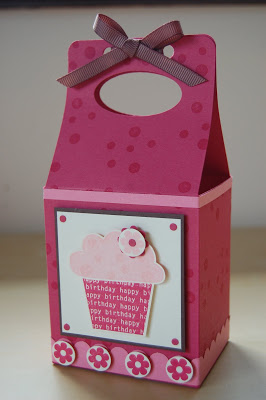 Our colour combo is Rose Red, Pretty in Pink and Chocolate Chip with Very Vanilla as our stamping base. I love how those flowers fit inside the 1/2″ Circle Punch, so sweet and simple.
If you would like to join the class next month, we are meeting on Monday 2nd August at 7.00pm, just give me a call to book your place.