This is one of the cards we made at Whitminster's class this month. A great card for the younger ones!
Our technique for this month was using the "Stamp-a-ma-jig". We used this on our card to stack our animals on top of one another and I think everyone got the hang of it eventually! The Stamp-a-ma-jig is such a great tool, it allows for easy alignment of images and once you have used it a couple of times its just like riding a bike!!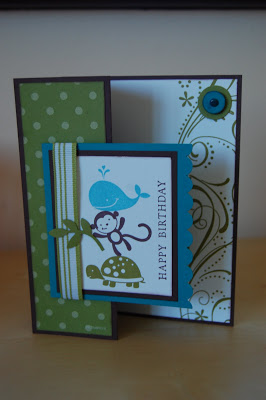 I just love these colours Old Olive, Chocolate Chip and Taken with Teal, such a fab combination, I will be sad to see Taken with Teal disappear in October but I know we are being graced with some wonderful colours in place of those we are saying goodbye to.
I have been trying to use my wheels a little more recently as the effect they give is so stunning yet simple. This one here is "So Swirly" and it is probably my favourite, this is a Jumbo wheel and we have used only half the image on this card to leave room for the greeting. The "Happy Birthday" on the outside of the card was stamped using "Basic Phrases" and the Stamp-a-ma-jig.
I will be back with the second project shortly, so stay tuned!