I always appreciate the efforts that my hostess' put into their SU Parties and what better way to say thank you than by sending a hand stamped card.
This design was taken from the current catalogue, just tweeked it a little and I realised that I just don't use "Trendy Trees" enough as it is so versatile.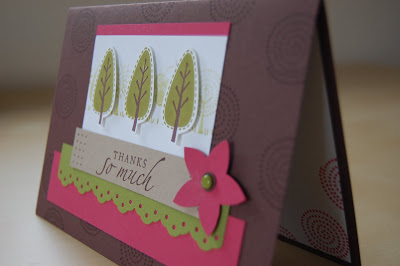 Once again, my fave colours, Chocolate Chip, Rose Red and Old Olive. I used the Die Cut "Blooms" to draw around as a template to create my Rose Red 5 Petal Flower and added an Old Olive brad to the centre. My greeting is from the wonderful, well used set, "Sincere Salutations".