Last month I introduced a Technique which we used on one of our cards and this month's technique was "Heat & Stick Powder" with Dazzling Diamonds. We stamped our Flower image from "Vintage Vogue" into VersaMark, then straight into our coloured ink (Tempting Turquoise) and stamped onto Very Vanilla cardstock. Next we dipped it into the Heat & Stick Powder before heating with the heat tool for a short while, without overheating. The next process was to dip the image into the Dazzling Diamonds and then re-heat for a couple of seconds to set the glitter. WOW, how gorgeous it looks.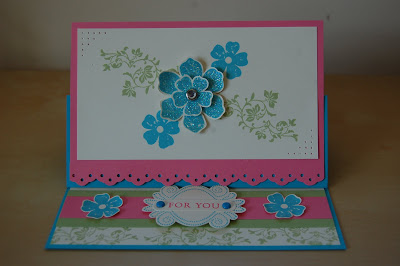 The Easel Card consisted of Tempting Turquoise, Regal Rose and Certainly Celery cardstock along with Very Vanilla for the stamping layers. I had seen a similar style card but wanted to use some bright and cheery colours and these seemed to work quite well. We used "Vintage Vogue" for the Flowers and leaves and also "Frames with a Flourish" for the label and "Basic Phrases" for the greeting.
Although at first this card may appear to be complicated, it is actually quite simple to put together and definitely gets the WOW factor!
If you would like to attend one of my classes, or would like any help or information on the products used for this card, just give me a call or email me at
stampinkerry@aol.com
for further details.