I have been unable to post for a little while due to changing my Internet Provider but now it is all up and running again so I can get back on track!!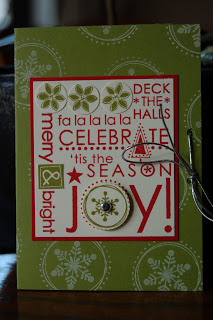 I have been preparing some items for sale at Craft/Christmas Fairs that I have booked and here is a nifty little number that holds a Gift Card, I found this tutorial on my travels whilst blog hopping one evening so thought I would give it a go. I have used "Season of Joy" teamed with Old Olive and Real Red cardstock and inks. The background of the gift card holder was stamped in Kraft White ink with the Snowflake stamp.
Here is the inside, I have cut away a slit using the Word Window Punch which is where the gift card sits. I have threaded a piece of silver Elastic Cord from the back to the front and tied in a bow as a closure.